Services
The Member Services Department of MISS DIG 811 provides a variety of services to the membership to assist in complying with PA 174 and protecting underground infrastructure. Below you will find some of the services the department and MISS DIG 811 offer.
Mapping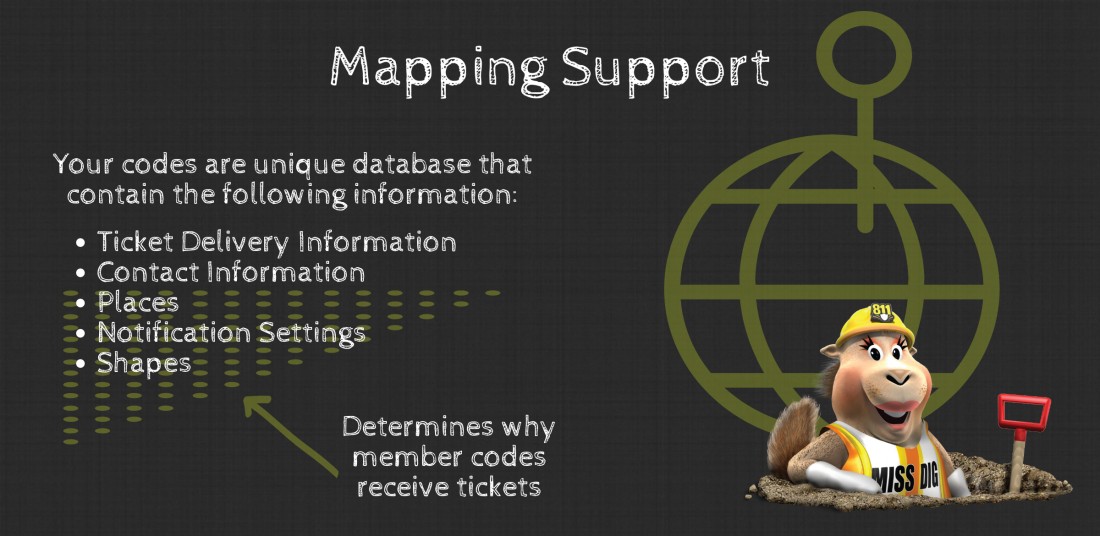 MISS DIG 811 uses GIS (Geographic Information System) tools to upload the data denoting the location of your underground facilities.
Members can provide:
GIS data (.shp or .kml)
Non-spatial data (as-built drawings, plat-maps, paper maps, .jpeg, or .PDF)
We are to help with:
Shape file uploads.Imports can be requested using the form below.
Mapping with a Remote Member Access Account. This feature, used to self-map databases by requires members to request editing access. For our members' peace of mind, edits to databases can only be completed when they have requested editing access be opened by MISS DIG 811. Access can be requested using the form below.
User guides and video tutorials. When you need a little extra guidance, check out the resources tab for user guide and videos.
Still not sure what you're looking for? Complete the form below and we will get you the information you need.
Did you know that in addition to standard mapping services performed by MISS DIG 811, members receive three free hours of mapping annually? Additionally hours are billed at $49.00.
Reports
Most data used by members can be viewed and exported within a Remote Member Access (RMA) account. When requested, the Member Services team can extract data and tabulate on behalf of a member. Below are the two most common reports requested and their associated cost. Contact the Member Services Department for a customized report. Quotes will be provided before work is completed.
Ticket Count Reports by Code $13.50 Per Ticket Type (for any period six months or less)
List of related ticket numbers in addition to report $18.00
Specific Positive Response Statistics by Code $37.00 (for any period six months or less)
List of related ticket numbers in addition to report $18.00
Remote Member Access
The Remote Member Access (RMA) program provides member access to the MISS DIG 811 System to research and query tickets, check on the status of delivery queues, view member notification areas, perform database maintenance, and much more.
The annual maintenance fee for each RMA account is $38.55. Please use the Complete an Application(s) button below to create your own RMA account. If the account you are registering for is intended to replace existing accounts on the system, please notify Member Support at membersupport@missdig811.org. Learn more about Remote Access here.
Excavator Education Program (EEP)
On behalf of participating gas and pipeline companies, MISS DIG 811 publishes a One Call Excavation Handbook that is delivered to all Michigan excavators known to MISS DIG 811. The list is compiled using the database of callers into theNotification Center, advertisers in trade publications, and lists provided to MISS DIG 811 by EEP participants. This program fulfills certain requirements of Pipeline Operator Members of the MISS DIG 811 System, as outlined in the Michigan Gas Safety Code. Each participating member receives access to a PDF of the mailing list and the handbook distributed to demonstrate compliance with the requirements. The handbooks are mailed out annually by mid-March. The program also contains a survey for completion by recipients. The survey results are used to improve the handbook in upcoming years. Once the survey results are calculated, they are made available to the program participants. Please visit the EEP page under the Excavator section of the website for more information, including a copy of the most recent handbook.
If you are a gas or pipeline member and would like to get involved in the MISS DIG 811 System's Excavator Education Program, please complete the form below.
Collaborative Design

Adapting to the needs of a changing world, MISS DIG 811 offers the Collaborative Design program. Building on our long-standing design ticket, this is a holistic approach to coordination. The program optimizes engagement of all current and future infrastructure owners, maximizing the investment and minimizing disruption to hard surfaces, existing infrastructure, and the public.
The Michigan Infrastructure Commission (MIC) reported a multi-billion-dollar requirement in annual updates for decades to come. The State of Michigan believes that the foundation of success in managing such a significant number of projects is cooperation between potentially conflicting projects during the design process. The MISS DIG 811 Collaborative Design Program addresses these challenges.
Collaborative Design is built on the WorksAccess platform. The program allows for communication, collaboration, and scheduling of work. It has the ability to unite involved parties by providing a platform on which they can communicate excavation and coordinate schedules to reduce the number of road openings and associated costs through shared excavation prior to a dig ticket being submitted and ground being broken. The program will:
Provide opportunity to share excavation costs
Extend road life
Improve utility design
Reduce risk for utility strikes and damages through better design
Improve community awareness of projects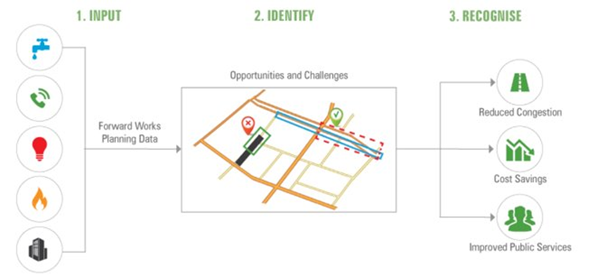 Through the MISS DIG 811 Collaborative Design Program, users can upload and share project plans, communicate between projects, isolate challenges and opportunities with other projects in the area, and schedule and agree to shared excavation or schedule changes. The program is built on four basic principles:
Job: A project with a defined location and description entered by a utility user
Opportunity: Two or more jobs with similar start and end dates that do not overlap are within 330 feet of one another
Challenge: Two or more jobs with start and end dates that overlap within 330 feet of one another
Exclusion Zones: An area which generates notifications designed to indicate specific constraints on work being permitted (e.g. a road moratorium or protected area)
Additionally, the program allows the designer to change visibility of a job based on the stage of the project, allowing users to manage whether it is for internal or public viewing. All jobs follow the same visibility hierarchy:
Draft (for internal use)
Private (shared with territory owner)
Public (shared with other organizations)
From the dashboard users can select any of their jobs; this screen gives a bird's eye view of all projects/jobs the company has on the system and provides the ability to view:
Attachments
Opportunities
Challenges
Collaborators
Conversations
The MISS DIG 811 Collaborative Design Program allows users to navigate through a list of jobs their organization has entered. All jobs can be edited and modified to ensure that the project is defined correctly in terms of its geographic boundary, schedule, details, and visibility to other users. The conversations feature allows for multi-organizational discussion and the uploading of attachments to support the collaboration. As a tool, users can start a conversation with any other jobs that have been identified as being an "opportunity" or a "challenge" to the selected job. Facility owners will still have ten business days to respond to a design ticket, providing the size, type, and general location of their infrastructure.
Establishing Your Account
If your organization is already utilizing Collaborative Design, please contact your administrator to have your user account created. If you would like to establish an Organization/Company profile on WorksAccess, please complete the Collaborative Design Associate Membership Set-Up form. Participation on Collaborative Design is part of a Facility Owner? Facility Operator Membership. For Contractors and Design Firms Associate Membership is required. Cost for participation is $252 annually for the company and first user. Each additional user profile is $54. If you are unsure if you Company is participating in Collaborative Design, please contact membersupport@missdig811.org.
Additionally, many users choose to maintain a log in on the existing design ticket entry, Newtin. Allowing them to interact with their design tickets and view facility owner contract information associated with the ticket. If this is a feature you are interested in, you can set-up your Newtin design profile HERE. Please make sure the telephone number you use for your Newtin profile is the same phone number associated with your WorksAccess account.
MISS DIG 811 strives to bring the best programs and services to our members and users. We look forward to future features of the Collaborative Design Program including receipt of responses and plans from facility owners, as well as tools to make responding easier on the facility owners.
TCP
TCP protocol is used in conjunction with ticket management software to automate the Positive Response posting process. Annual maintenance fees apply.
Our members matter. The Member Services Department provides support to during the hours of 7:00am to 5:00pm, Monday through Friday — except on MISS DIG 811-observed holidays.