Remote Ticket Entry
For Authorized Contractors and MISS DIG 811 Members Only
To Become an RTE User Click Sign-Up Above!
Tired of waiting on hold to place your MISS DIG 811 Locate Requests when you have other tasks to complete? Would you like to be able to place as many tickets as needed without being told that there is a limit on new locate requests of 1 per call? Do you like the idea of being able to place a MISS DIG 811 ticket from your PC or laptop at your own convenience? If so, then Remote Ticket Entry is the choice for you!
Remote Ticket Entry (RTE) allows authorized contractors and MISS DIG Members to enter Dig Notice requests over the Internet 24/7. With basic access, regular 3 business-day tickets can be entered. RTE Users have convenient access to:
Ticket Search – View and print tickets you've processed over the last six years
Excavator Response - Post responses, photos or files to your tickets for documentation purposes
Positive Response - View utilities posted responses to your ticket requests
Ticket Entry at your convenience: 24 hours a day, 7 days a week
Ticket Entry on any computer or laptop, supported with an HTML5 browser
Near Ticket - See what tickets have been entered in the area near your project
Damage Information Reporting Tool (DIRT) - Anonymously report any damages or near misses to Michigan Virtual Private Dirt
To place tickets using Remote Ticket Entry, each applicant is required to attend online training.
All tickets must be placed in accordance with the MISS DIG System Inc. rules, regulations, and guidelines, as well as the Michigan state law, Public Act 174.
New!! - Damage Information Reporting Tool (DIRT)
Access via Remote Ticket Entry HELP menu
Already an RTE User?
For RTE Web Ticket Support call 877-647-7344
or contact Stephanie Boe at sboe@missdig811.org
TICKET ENTRY TRAINING VIDEOS AND GUIDES
How to Cancel & Replace a Ticket
RTE Forum Videos
February-Working Around Utility Poles
November RTE Forum Video: Mapping a New Street
October Forum Video- Cancel and Replace a Ticket
September RTE 2020 Forum- Mapping an Address with Parcel Data & Identifying the Place
August RTE Forum- Working In Mobile Home Communities and Apartment Complexes
July RTE Forum Video- Open Discussion
June RTE Forum Video- Excavator's Responsibilities.
May 2020 Refresher
April 2020- Help Tab Features
March 2020- Ingredients of a Quality Ticket
Feb 2020- See Locate Info
Jan 2020- Map Tools and Features
Dec 2019- Ticket Search & Adding Attachments
Mapping Tools
Mapping Part 1: Map Toolbar
Mapping Part 2: Navigation Menu
The Near Ticket Tool
The Near Ticket
RTE & DSG users now have access to this feature on their ticket entry screen.
Once you have mapped your ticket, click on Near Tkt. It will show you all other tickets placed near yours, along with the work area that you drew on the map.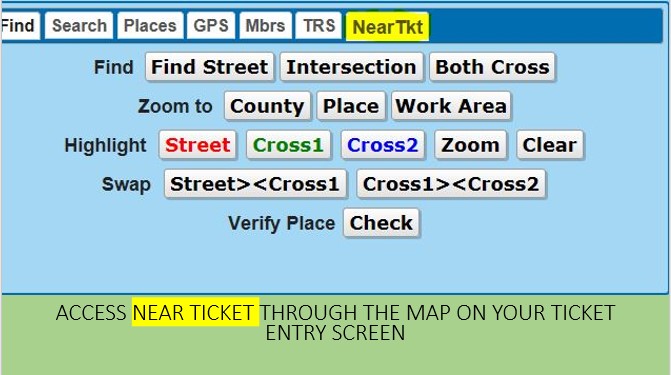 Click on the numbers listed on the left under the map.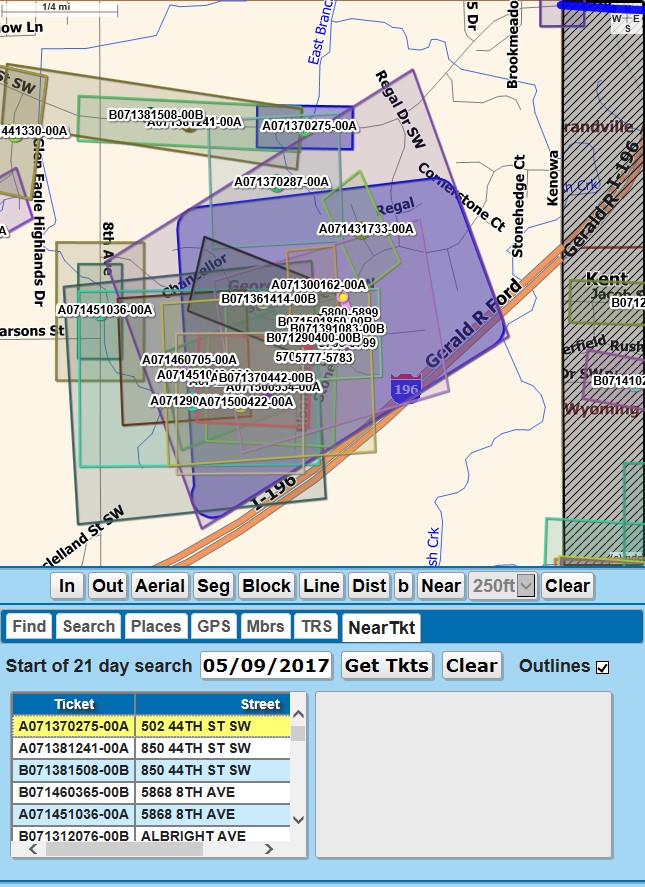 You will get information such as: What is being done and which contractor is doing the excavation?

Start using NEAR TICKET and find out how useful it can be for you!!!
How to Cancel & Replace a Ticket Video
Retransmitting a Ticket Video (Full Access Users Only)
Positive & Excavator Response Video
Private Utility Locate Video and Guide
Working in a Mobile Home Park Guide
What to Enter in the STREET Fields Guide
Locate Demand Management Guide
Marine Ticket Video and Guide