Gold Shovel Standard Committee (GSSC)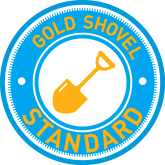 The vision for MISS DIG 811 Gold Shovel Standard Committee is a safer Michigan where all excavators demonstrate exemplary caution around buried infrastructure and all locators demonstrate exemplary performance in locating buried infrastructure and where both can be recognized and rewarded for their superior performance.
The mission of MISS DIG 811 Gold Shovel Standard Committee is to accelerate the broad adoption of Gold Shovel Standard throughout Michigan. For those wanting information on the Gold Shovel Standard please email us at gss@missdig811.org and visit the website at www.goldshovelstandard.org
Great Lakes Foundation

The Foundation will be responsible for sponsorship of participation in the Gold Shovel Standard.
Sponsorship is intended to reduce damages by having municipal members and contractors adopt the Standard.
The Sponsorship is a 3-year program that members can apply for as a Gold Shovel Standard community or contractor.
Public Agency Members willing to adopt the Standard for all work done in their jurisdiction can request that their annual membership fee be reduced by 1/3 for 3 consecutive years.
Associate Member Contractors can request that their annual membership fee be reduced by 1/3 for 3 consecutive years. For those wanting information on the Great Lakes Foundation please email us at glf@missdig811.org
Gold Shovel Standard Committee
General Information
Minutes